Show All Steps
// =$breadcrumb; ?>
Welcome to your clubhouse
PLAY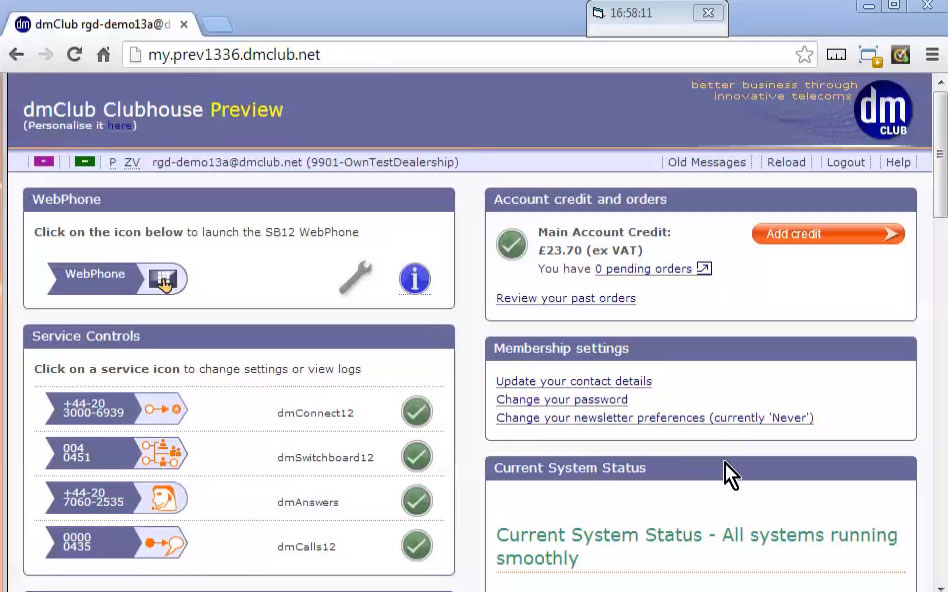 The clubhouse page has been re-designed to make it easier to use and more intuitive: whether you're an experienced dmClub customer who is familiar with the clubhouse, or a new user who's just getting started, this dmNote will help you find your way around.
Watch the video tour on the right for an introduction to the Clubhouse's main features.
Areas of your clubhouse
Your clubhouse page can be broken down into 6 main areas: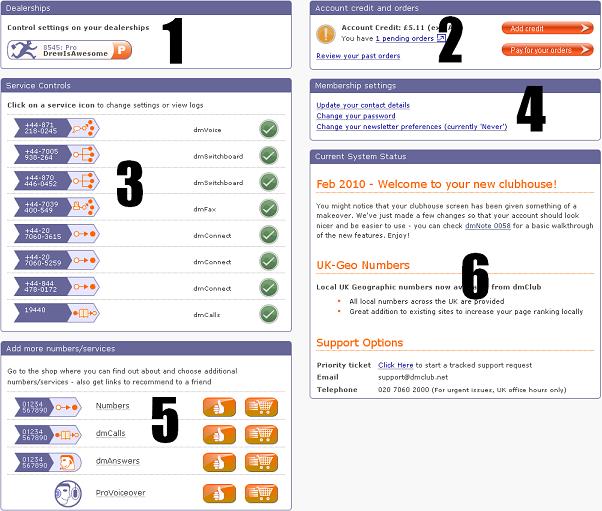 Area 1: Dealerships (dmClub dealers only)
This is where a dmClub dealer can login to their dealership control panel. If you're not a dealer, you wont see this area in your clubhouse. You can find out more about becoming a dealer for dmClub at the following URL: http://www.dmclub.net/become-dealer
Area 2: Account credit and orders
This section contains links to your dmAccount, which is an index of all the financial information related to your account. You can click on the links in this section to make a payment onto your account balance, check your invoices and receipts for past orders, or review any outstanding orders that need to be paid.
Note that money in your account is split between the "main balance" and one or more "dmCalls12 balances"
There are two figures because the outbound calling system (dmCalls12) is actually quite separate from the other billing systems. dmCalls12 gets topped up from the main balance (according to rules set in the Credit+Paks tab of the dmCalls12 service control). You can also transfer back and forth manually. 5100: find out more about dmCalls12
Your total remaining balance can be determined by adding the two.
Area 3: Service Controls
This is a list of all of the virtual number services you currently have active with dmClub. This list also shows you the service type (eg. dmVoice, dmSwitchboard), and any number aliases you have set up. Clicking on each of your numbers will load the control panel for that number, where you can (for example) change your call forwarding settings or set up your voicemail email address.
Area 4: Membership settings
Here you can access the administrative settings for your clubhouse: update your contact details, change your logon password, and also change the preferences for receiving our newsletter.
Area 5: Add more numbers/services
If you want to purchase additional dmClub services (for example add a dmAnswers live human answering service to your account, or buy a professional voiceover recording for your switchboard), you can access all the links you need in this area.
Area 6: Current System Status
This is where the dmclub support staff post notices about current technical problems or general system status updates. If you notice a problem on your number, it's usually worth checking this section before contacting support.
Top 5 tips for new users
Make sure your contact email address is spelt correctly, and is an active email address that you check reasonably often

It's worth checking the Current System Status section every so often so you're aware of any issues we are working on

Once your payment has cleared and your dmClub number is active, make sure you click on it in your Clubhouse and set up your divert (click here for more on how to do this)

Payments to dmClub can take up to 4 business hours to clear, so if you make a payment and it doesn't reflect straight away, don't panic!
Always login to your clubhouse from the main login page: http://my.dmclub.net
Have your say
Feedback from dmClub users is very important to our design process. We hope that the main clubhouse screen will make it easy for you to use your dmClub services, but if you have any suggestions on how we could make things even better, then we'd love to hear from you. Please leave us a comment in the comment box below.
I'm still confused, what do I do?
We know the clubhouse can seem a little overwhelming at first, especially for new users. If you have any questions that this basic tour hasn't answered, you're welcome to contact our support team for assistance. You can reach us: