Show All Steps
// =$breadcrumb; ?>
dmNews Feb 2011: Numbers talk – five hot trends in business digits
In 2011's uncertain business climate, subtle branding can help give you an edge. We've distilled the five key trends in business phone numbers, to help your business send the right message - before the customer even calls.
Numbers talk: five hot trends in business digits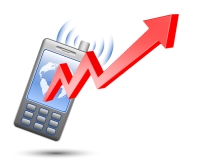 What's in a number? Your digits speak volumes about your business. If you're starting a new venture, thinking of changing your number or updating your business cards, we've got the five key trends you need to know when choosing a number.
Mobile calls take the lead - but land line numbers still look best

More calls are now made from mobile phones than land lines in the UK. This has some significant implications for businesses - not least the fact that while your customers are likely to call you from a mobile, they don't want to dial a mobile number. So even if you're on the move most of the day, it still pays to have a number that says fixed line.

Geographic numbers are back

After losing ground to non-geographic numbers (0800, 0845 etc) geographic (showing the region or area code) numbers are making a comeback. Thanks to the steep charges by some mobile phone companies to call non-geographic numbers, customers are now often more keen to call a geographic number, as the perception is now that the call will be cheaper.

Multiple area codes for greater reach

For businesses serving a particular area, such as plumbers, electricians or minicabs, a key trend is to offer multiple numbers over a range of area codes within the geographic area covered. Customers will always choose a tradesperson within their area code if possible - so smart companies will operate several numbers, thus inviting customers within a wider geographic area.

Virtual is the new local

2011's uncertain business climate doesn't mean there are no opportunities for expansion. But with the growth of cloud computing and smart virtual services, more and more businesses are taking first steps toward expansion via a virtual office, rather than hiring physical premises. Mail boxes, virtual numbers, virtual receptionists and more - expect to see more businesses using smart technology to dip their toes in the new markets without blowing the budget on relocation.

Memorable numbers for repeat business

Businesses that depend on repeat business for steady income are well advised to buy a memorable number. Though it might not seem the most obvious item for big spending, they can pay for themselves swiftly simply by being the number that customers remember, even when they don't have their address book handy.
Upgraded payments - what you told us - and what we are doing about it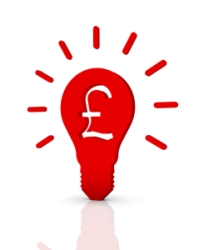 Last month, we asked you what you'd like to see changed or improved in our payments system. Key possible upgrades include monthly payment by credit card or direct debit, advance payment for discounted rates, and payment by smartphone.
According to your responses, you're most keen on being able to pay much further in advance, for a discounted rate. Voters were also keen on monthly payment, with a tie between those who wanted to pay by credit card and those who'd prefer direct debit.
We also got some great suggestions for tweaks we could make to the process of payment.
Got an idea but missed out on the poll? We've started developing the new payment system, so would like to hear from you soon. And obviously we'll keep you posted on our development process.
Email your suggestions to editor@news.dmclub.net
Tip of the month: SMS notifications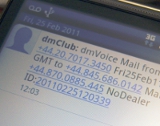 Did you know you can set your dmSwitchboard, dmVoice, dmFax and dmAnswers accounts to send you SMS notifications every time you receive a message? If you're on the move and won't be able to check your email regularly, SMS* can be the best way to make sure you don't miss that vital message.
Log in to your clubhouse
Click the relevant account icon in the Service Controls box
Click on the relevant tab in Service Controls (varies according to service)

Under "Notifications", set the drop-down to SMS and enter the number you want to receive notification on
Click Save. You're done!
*Charges apply for receiving SMS notifications. Contact support@dmclub.net for details.