Show All Steps
// =$breadcrumb; ?>
Introduction to dmSwitchboard12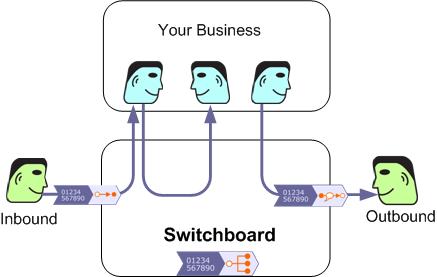 dmSwitchboard12 is a hosted switchboard. That means it offers all the features of the most advanced switchboard, without needing to buy any physical equipment. This is possible because the technology is made available virtually and is 'hosted' by the provider.
A hosted switchboard makes 'big business' type telephone systems available to everyone. Without the need to invest in expensive systems and technicians, a hosted switchboard makes advanced telecommunications available affordably and reliably.
A true hybrid switchboard
A key benefit of dmSwitchboard12 is that it's a true VoIP/PSTN hybrid. That means it works equally well
Using the public switched telephony network (PSTN) - that's the 'regular' land line or mobile phone network
Using VoIP - that's Voice over IP, a system that allows telephone calls over the internet. dmSwitchboard12 supports RTMP, SIP and IAX protocols for VoIP.
Using a mixture of VoIP and PSTN networks - that is, you can route some Personal Extensions via VoIP, and some via PSTN.
Save money with VoIP
VoIP, or internet telephony, is a fantastic way to save money on calls. dmSwitchboard12 gives you inbound and outbound VoIP telephony out of the box via our built-in WebPhone, meaning you can be up and running with VoIP in as little as ten minutes.
Or if you'd rather use a telephone handset, dmSwitchboard12 is fully compatible with all VoIP handset types. If you're not sure how to get your VoIP handset set up, our consultancy service can get you going quickly and cost-effectively.
Blend VoIP with PSTN
If you don't want to rely exclusively on VoIP, you can mix it up. dmSwitchboard12 will route calls to mobile or land line numbers too - great for staying in contact when working from home or while on the road.
dmSwitchboard12 is great for connecting a distributed team via a single switchboard - and the phone handsets don't have to be in the same building!
Integrated business-driven technology
dmSwitchboard12 is designed for business, and is flexible enough to meet the needs of a wide range of organisations. dmSwitchboard12 offers a range of features includin:
Attended and unattended transfer
Easy, online switchboard management
dmSwitchboard12 is quick to set up and sophisticated enough to meet the needs of your organisation. It is also fully integrated with a range of other call handling services, including:
Inbound numbers
Outbound numbers
Outbound calling
Answering services
Dialup access numbers
Ready in ten minutes
At dmClub we believe you should be able to get up and running quickly and smoothly. That's why we offer an assisted setup service to get your switchboard up-and-running in ten minutes.
Just work out how you want your switchboard to behave then contact us for your free ProTime session.
Professional support by human beings
As a dmSwitchboard12 customer, you can be confident that our friendly, expert UK support team are there to support you. As well as phone and email support, you can also take advantage of our bespoke extra support and training service, as well as regular 'open house' meetups and webinars.
Open platform for bespoke options
dmSwitchboard12 provides an integrated business switchboard straight out of the box. But if you want to customise your package - for example by using inbound or outbound numbers from a different provider - we're happy to help. Our bespoke consultancy service will work with you to create exactly the package you want.
Related content