Show All Steps
// =$breadcrumb; ?>
How does dmVoice and dmFax Unified Messaging work?
If you've got a dmVoice or dmFax service, you've signed up for Unified Messaging. Unified Messaging combines the best of telecommunications with the power of the Internet to bring you an integrated service that means you'll never miss an important message again.
How does it work?

How dmVoice works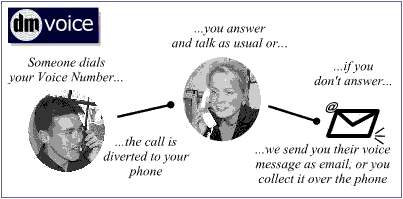 With dmVoice, you choose a number from one of our UK Geographic and Non-Geographic number ranges, and set that up so that calls are diverted to another number of your choice.
So, for example, if you owned a property abroad, you could buy an 020-7 Central London number, and arrange for it to divert either to your mobile, or - when you were away - to your home abroad.
If the call isn't answered, the caller will be prompted to leave a message. You can access your voicemail by dialling the control number, or have it sent to you as an MP3 email attachment.
How dmFax works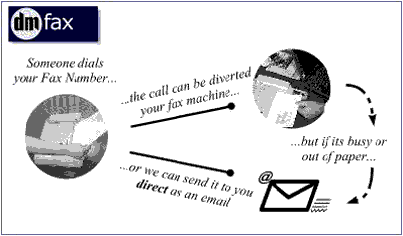 dmFax lets you receive faxes at your fax machine, or as email attachments - or switch between the two according to whether you're in the office or not.
For example, if you've set your dmFax to divert to your fax machine, but it is busy or out of paper, you'll receive your fax as an email attachment.