Show All Steps
// =$breadcrumb; ?>
What to do if your service is not working
If your dmConnect12 service is not forwarding calls to you, please try the following steps and this will usually solve most issues.
Check your dmCalls12 Credit
dmCalls12 is in the Service Controls Section of your clubhouse. This is the program which allows your service to forward telephone calls inbound and outbound. It is important that dmCalls12 always has a positive balance otherwise your service will not work.
You can manually alter this by following these instructions:

Click on the dmCalls12 control panel (1)

Click 'Credit' (2)

Check your current calls credit (3). If this is less than £1 then definitely top up.

If required, enter a topup amount - note that this cannot be more than your current main balance (4)

Press topup (5) to manually transfer credit from your main account balance to dmCalls12.
Place a test call directly to your divert destination
From a different phone, try a test call directly to your divert destination. If this does not work, the problem is likely with your divert destination provider (e.g. your landline or mobile provider)
Resave your Plan
If there is credit in your dmCalls12 account, it may be that pressing Save to re-activate your existing plan will solve the issue.

Click on your telephone number from your main clubhouse page (1)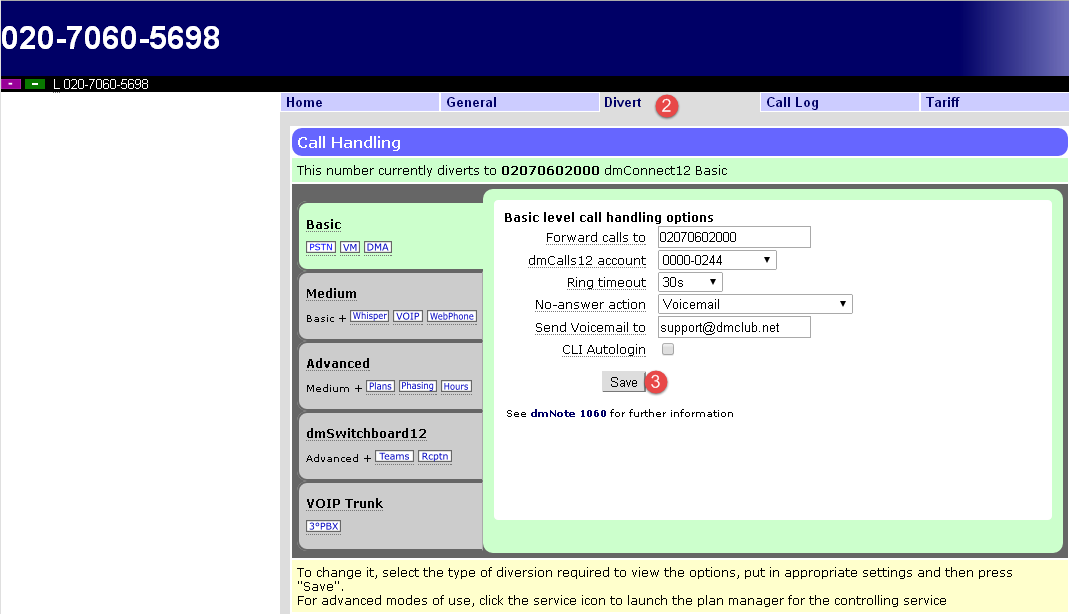 Click Divert (2).
Click Save (3) on the currently active plan (this will be either basic, medium or advanced).
Make a test call
Place a test call to your dmConnect12 number (obviously from a different number than the one we are diverting your calls to)

After your next test call, If the problem still persists, give it 10 minutes then try again.

If you are still experiecing problems, email support@dmclub.net or call 020-7060-2000 and we will respond within 4 working hours.