Show All Steps
// =$breadcrumb; ?>
Advanced SIP Diagnostics - Useful tools to help with VOIP problems
Use of VOIP can be fraught with difficulty, because the SIP protocol that most non-proprietary systems use was not designed for the way in the the modern Internet works. Particularly when using SIP handsets on a LAN behind a NAT router, there can be intermittent issues that are hard to track down. Advanced SIP Diagnostics offers dmSwitchboard12 users helpful tools to identify and assist in resolving such issues.
It is also a useful way to get a view of which users are currently available to take calls - particularly when you have remote/home workers.
dmSwitchboard12 & dmConnect12 services will automatically terminate "AWOL" sessions - those where, although the handset is registered, it does not respond to incoming calls.
How I use Advanced SIP Diagnostics?
Advanced SIP Diagnostics are accessed from the "General" tab of the dmSwitchboard12 control.

dmConnect12 users can get to this advanced feature by selecting the Divert tab, then the Advanced sub-tab and then clicking on the personal switchboard icon:

Current Registrations
Click this to display a list of all SIP devices currently registered to this switchboard. It includes quite a lot of information about the device, including Make/Model, IP address, username, extension.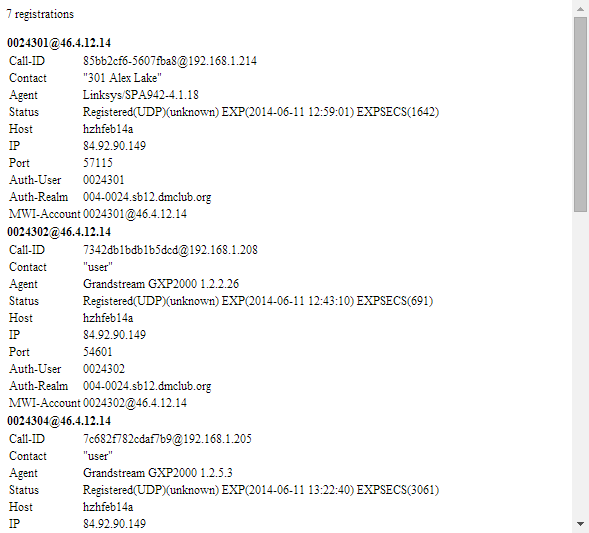 If your handset display suggests that it is registered, but it's not on this list, then it's probably registered to some other service!
AWOLs + Registration History
A commonly-seen problem with SIP handsets (particularly when behind a NAT router) is that they think they are registered, but will not respond to incoming phone calls. dmSwitchboard12 monitors all registrations every 30s and if it detects this "lost registration" condition, will deregister the handset in the expectation that a re-registration will result in a more successful connection (you are advised to enable this feature on any SIP devices you use with the service). It also helps speed up any failover you've set up on the extension (eg. voicemail, dmAnswers Message Desk, try another extension).
Every time a lost registration is detected, a "SIPAWOL" event is created in a log which can be downloaded by clicking the AWOL notice (which includes a count of how many times this has occurred in the last 24 hours).
A warning of very recent AWOL events is given in the general tab of the dmSwitchboard12 control, as shown in the top screenshot above.
The download is a .csv file which can be opened in any spreadsheet package. It contains all events from the last 10 days.

The download also includes registration events (SIPREG) which can be used to deduce at which times handsets were meaningfully connected to the service.
What you might use these tools for
If you're setting up handsets and want to check that the credentials are correct, you can usually look on the handset display (or web configurator) for a registered status. However, it can be more convenient, particularly when dealing with a lot of handsets, or those that are remote, to use the "Current Registrations" feature.
When changing dmSwitchboard12 plans, you might also check that all expected handsets are registered. Again - particularly useful if you're the IT administrator for a multi-handset organisation.
If you've experienced Missed Calls where callers are put through to voicemail without your handset ringing, one of the possibilities is a lost registration. Go to the General tab of the dmSwitchboard12 control and see if the the AWOLs link is red. If it is, you can investigate further, although advanced knowledge of SIP, LANs, routers and ISPs may be needed. Sometimes trying an alternative model of handset can be the easiest solution!
Technical Specification
Current Registrations
Reports on:
| Name | Use | Example |
| --- | --- | --- |
| Call-ID | A SIP registration session ID from the handset's perspective (may include the local LAN IP address) | bcbdc020-dd557286@192.168.1.214 |
| Contact | As configured on the handset, a label for the account | "301 AJL" |
| Agent | Make/Model, possibly firmware version of the handset | Linksys/SPA942-4.1.18 |
| Status | Registration status + expiration date GMT/duration | Registered(UDP)(unknown) EXP(2014-06-11 11:25:31) EXPSECS(1796) |
| Host | Which dmSwitchboard12 server your switchboard is on | hzhjun12 |
| IP | The Internet (WAN) address of the handset | 84.92.23.149 |
| Port | The UDP port the handset is listening on. | 57115 |
| Auth-User | The SIP login ID | 0012301 |
| Auth-Realm | The IP address (expressed as an FQDN) of the dmSwitchboard12 server | 004-0012.sb12.dmclub.org |
| MWI-Account | SIP login ID @ dmSwitchboard12 server IP address | 0012301@5.9.36.113 |
SIP Events (AWOLs + Registration History)
Every 30s the dmSwitchboard12 server will send a SIP "OPTIONS" message to all registered handsets.
If it doesn't get a response, it will retry up to 5 times immediately and if still unable to contact the handset (takes about 30s in total), will cancel the registration and add an "AWOL" event to the log.
SIP registrations and failures are also recorded in the log, which is downloaded as a .csv (comma-separated variables) file
SIP events can be inspected within 2 minutes of their occurrence and are retained for 10 days
Note that SIP events will also include any events from your browser's IP address - this can help resolve issues where the SIP ID was incorrect
Log format
Name
Use
Example
Date
When (GMT) did the event occur
06/06/2014 04:45
Host
The dmSwitchboard12 server that detected it (dmClub internal reference)
hzhfeb14a
SBAddr
The address of the dmSwitchboard service
002-9903
Ext
The switchboard extension to which the handset is/was registered
301
EventCode

What happened?

SIPREG=A new registration

AWOL=A registration was terminated as the handset stopped responding

REGFAIL=A registration was attempted but failed (probably wrong password)

SIPREG
FullInfo
The low-level log from the SIP server
2014-06-06 16:55:44.054907 [WARNING] sofia_reg.c:1541 SIP auth challenge (REGISTER) on sofia profile 'internal' for [0024301@004-0024.sb12.dmclub.org] from ip 84.92.90.149
FAQs
Q: If I have ongoing problems with the reliability of my SIP phones, can dmClub support help me fix it?
A: Not really. We aim to provide useful information that a competent IT support company could use to diagnose problems.
Q: Can you recommend any reliable SIP handsets?
A: We tend to find that softphones (running on your PC) are better at handling the vagueries of NAT. Also we would tend to avoid using Grandstream phones, at least on the default settings (from our own experience and general industry sentiment).
Where Next / Related Notes
#1222 - Customer tips on VOIP - Advice from other customers who've had (and solved) VOIP problems