Show All Steps
// =$breadcrumb; ?>
Controlling your dmSwitchboard over the phone
If you're away from your computer, but need to change the settings on your dmSwitchboard, you can do so over the phone by dialling your control number. Follow these instructions to set up your dmSwitchboard for phone control.
Set up your PIN

First, open your Clubhouse and then click on the icon for your dmSwitchboard number. A new window will open, showing the Control Panel for that number.
To set up your PIN, click on the General tab.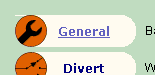 Switchboard control number
You'll see a box on the page where you can enter your PIN:

Set a PIN you'll remember when you're not online.
Access your control number
To access your control number, dial 08700 885 445. Then enter the number for the dmSwitchboard you want to manage, and when prompted enter your PIN.
dmSwitchboard controls
Call handling mode (option 1)

If you select Automatic, the switchboard will divert either to your chosen number/s or to voicemail, according to the timetable you set in your Clubhouse control panel.
If you select Manual (Office Hours) the switchboard will always divert to your chosen numbers.
If you select Manual (Out of Hours) the switchboard will always diver to voicemail.
Voicemail (option 2)
Press 2 to listen to voicemail messages.
Sound wizard (option 4)
Press 4 to add your own recorded sounds. (Click here for more information on adding your own sounds).