Show All Steps
// =$breadcrumb; ?>
dmClub customer news - February 2010
Welcome to the rebirth of dmNews! dmNews is the regular newsletter of dmClub, your friendly telecoms provider. Read on for your dmClub account balance, the chance to shape the future of dmClub, news of upgrades to your Clubhouse and February's Tip of the Month.
In this issue:
Welcome to dmNews!
Shiny new Clubhouse
Tip of the month
Welcome to dmNews!

Hello! I'm Mary, dmClub's Community Manager. I joined dmClub from online community work in a couple of Web startups, where I worked on getting the people surrounding the company involved in developing new ideas.

At dmClub, we're up to all sorts of exciting stuff right now: investing, building new teams, developing new products and lots more. My job is to let you know what's going on the newsletter is the first step in that and to hear your ideas for how we evolve. (For starters, please vote on what we should develop next! See the next story for details)

So this is my first newsletter to you. I hope you enjoy it. Login to your clubhouse to unsubscribe. If you think it could be better, or you've got other ideas you want to share, then write and tell me. You can reach me by emailing editor@news.dmclub.net I promise I'll write back.
Shiny new clubhouse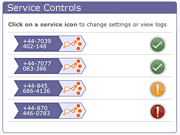 Based on your suggestions, we've been tweaking the Clubhouse to make it easier to use. With the new 'traffic light' system, you can now see at a glance if your accounts need topping up. We've also done a bit of a polish on overall navigation, so it's easier to find your settings, update your details and so on.

We've got more upgrades on the way. If you've got any special requests, please let me know. Meanwhile, I hope you like the new look!

Log in to your Clubhouse now
Tip of the month
While I was chatting to the Support team, they also mentioned that lots of you have been asking about how to update your contact details in your dmClub Clubhouse. If you haven't done this recently, it's well worth checking sometimes dmClub needs to get in touch about something, and we're dependent on you to keep your info up to date. Here's how you do it
That's all for now, folks! See you next month.
All the best,
Mary,
Community Manager,
dmClub