Show All Steps
// =$breadcrumb; ?>
This is the bulletin of recent releases, upgrades and notices for dmClub accounts, services and controls
Improvements for May 2016
Mon09May 2016: New number ranges
We have applied for the following number ranges, as customers with the equivalent 08xx xxx xxxx numbers would like an easy number to migrate to, and also there is a growing interesting in "Gold numbers" on 03xx numbers.
These numbers will be live on the UK telephone network by mid August 2016
0344 970 xxxx
0344 983 xxxx
0344 905 xxxx
0344 478 xxxx

0371 604 xxxx
0371 775 xxxx
0371 618 xxxx
0371 359 xxxx
0371 218 xxxx
Improvement for April 2016
Thu28Apr 2016: Auto Topup is retired long live AutoPay
Auto Topup the old Credit Card automatic payment system has been retired, given a gold watch and has moved to Switzerland, where it can achieve its bucket list ambition of visiting all the Banks in all the Cantons.
AutoPay a more powerful, easier to use system will take its place.
Fri 22 Apr 2016: AutoPay with 3 styles, cards and DD released into "General Use"
Multiple account connection options:
The overall concept has been made more general and now one can connect several payment accounts to AutoPay
Each style can connect to a selected account (e.g. Daily Topup can use Credit Card, Monthly can use Direct Debit)
Instant and Daily Topup styles have been added to the existing Monthly style
Instant is a manually initiated payment, but our Payment Service Provider (RealEx) remembers the card details on their network
Daily Topup is an automatic payment, that checks the customer balance every 10 minutes and does a maximum of one automatic topop per day
Monthly is an automatic payment, which prepares an estimate, and notifies the customer on a fixed "notice date", does the transfer on the Transfer Date, and then confirms the result of the Transfer on the Confirmation Date
Handy instant pay options are being added throughout the system so that customers can easily get started with AutoPay
Roadmap and ideas
Should dmClub be supporting other types of account with AutoPay, (paypal, Bitcoin)?
Should autopay support initial orders?
Improvements for March 2016
Voicemail OGM
dmConnect12, dmSwitchboard12, dmVoice have all got online options for creating and updating your VoiceMail OGM
#1237 Setting up voicemail OGM for dmConnect12 and dmSwitchboard12 to use this new easy way of setting up your OGM
Improvements for February 2016
The improvements this month have been all about making it easier to pay. Most of our support is taken up with payment queries, so we're hoping that these improvements will save us all time and reduce the risk that numbers are disconnected for non-payment, as that can cause a lot of hassle and lost opportunities. Meet the three new payment types: AutoPay, EasyPay and QuickPay
Feb 2016...Accounts: Credit, Orders and Payments
AutoPay by Credit/Debit Card
What: You can now use our AutoPay system with your credit/debit card.
Why: Making account management easier, AutoPay calculates all the payments for a month and collects them in one go with notification and a fully itemised explanation of where the charges come from. This has previously only been available for direct debit from UK banks.
This is the best way to avoid your number being disconnected - even when you're too busy to attend to the paperwork.
How: Goto to my.dmclub.net > Accounts > AutoPay
EasyPay by Credit/Debit Card
What: You can make payments from your stored credit/debit card with just a couple of clicks.
Why: Making adhoc payments simple and quick, EasyPay enables you to add credit from your stored card. This facility is available to anyone who has allowed Realex to store their card details for us - this is done by checking the box when you make a credit card payment. Also anyone who has AutoPay by card will automatically have this facility.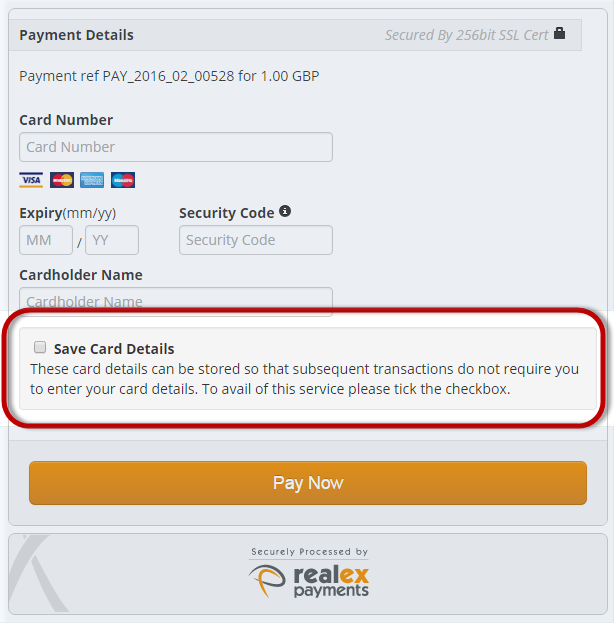 This is a good method for those who want to be in absolute control of payments, but still save time.
How: Goto to my.dmclub.net > Accounts > Add Credit

QuickPay by Credit/Debit Card
What: A way of quickly making credit/debit card payments without going to the clubhouse.
Why: We can send you links in emails for efficient payment going directly to the Realex site. This is great for use on the road, as Realex have a mobile-friendly site and there's no faffing about logging in. You can even forward the link to a friend (or rich uncle!) to pay for you without them having your dmClub credentials.
How: We send you a link of the form http://my.dmclub.net/QPayCC?q=<DMID>:<Amount> and that links straight through to Realex.
Improvements for January 2016
January 2016...Accounts: Credit, Orders and Payments
Free SMS alerts on urgent service and credit issues
What: We can send you SMS alerts when you have forgotten to pay for your account and we might be forced to close it, and for when your credit passes one of your preset credit alerts.
Why: Many of our customers are very busy, and do not read all the emails that we send them, as they get lots of email and spam. For these two critical issues we now offer a free SMS alert service.
How: Goto to my.dmclub.net > Membership settings > Admin Alerts > Warnings by Text= > [Apply changes]
January 2016...Services
Setting Voicemail Outgoing Message for dmConnect12 using a telephone control number
What: dmConnect12 customers can now use the telephone control numbers to set their voicemail OGM (Out Going Message)
Why: While it is not as powerful as the the extension 901 and 903 voicemail controls, it is simpler, and quicker for simple jobs
How: You set the PIN on the general tab of your control, and then dial the Control Number, and select option (5) (3)
More: #3328 Phone login to your Control Number section 1.4
Improvements for December 2015
December 2015...Accounts: Credit, Orders and Payments
AutoPay Direct Debit keeps your account in credit, and reduces your admin
What: dmClub introduces monthly Direct Debit with comprehensive statement.
Why: many of our customers are very busy with their business, and require low admin payment. For companies who do not have company credit/debit cards this may be the ideal solution to keep down expense admin.
How: Go to my.dmclub.net > Accounts... > [dmAutoPay] and with a few minutes admin you are set!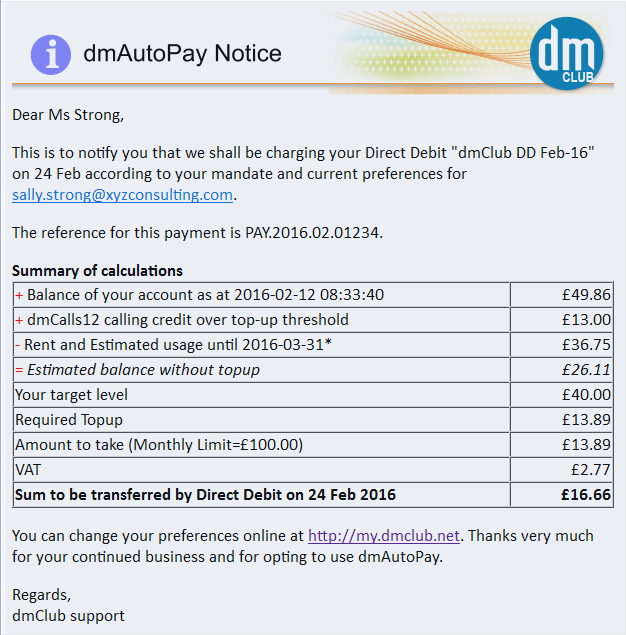 More: #0106 dmAutoPay with Direct Debit A general introduction and some FAQ's
Admin copy email addresses helps inform the right people when your account needs attention
What: dmClub introduces email addresses for administrators of dmClub account
Why: Some of our customers have people who run the account, and people who pay bills reliably, they are not the same person. So now you can have your admin team CC'ed on all the boring commercial emails that you like ignoring.
How: Go to My.dmclub.net > Membership settings > Admin Alerts
More: see information on the Admin Alerts section
Clubhouse buttons for quick statements
December 2015...Services
dmRecording Commercial - Limited Release - Free Trial
What: We can record your inbound, outbound and internal phone calls, and make the recordings available in stereo on your call records
Why: Internal training, internal QA, external over the phone training services, resolution on what was discussed over the phone
How: if you have dmConnect12 or dmSwitchboard12, contact support, requesting to join the free trial
More: nothing yet, this is a free trial for the moment
dmExtensions - Limited Release
What: You can add extra Reception, Team and Person extensions on your dmConnect12 in advanced mode. These features have traditionally been available only on dmSwitchboard12
Why: If you want add colleagues, have call routing, customer choice, parallel hunting, internal transfers and confering of calls
How:if you have dmConnect12, contact support, requesting to join the free trial
More: #0400 dmSwitchboard12 features for the list including extensions
Email upgrade
What: We have upgraded our email sending engines
Why: Some customers (particularly those using Microsoft email services) were having trouble receiving our emails.
How: No action required
December 2015...Controls and clubhouse
More and new buttons with helpful infoText
What: We have started to restyle the clubhouse, and add some short-cuts to useful features
Why: A clean look to improve usability and reduce clutter
Improved Clubhouse security
What: When you use your clubhouse, you will see that we are being more insistent that you are using HTTPS:
Why: HTTPS is safer against "man in the middle" style attacks.
Anti hacker login
What: If you have more than 5 bad logins, we may "ban" you from that Internet IP address. The ban will expire after 10 mins.
Why: This stops "fred hacker" from trying a brute force attach on your dmClub account
December 2015...Support and consultancy
Express support
What: We have introduced Express Support , it has its own button on the clubhouse, it is also present on the foot of every dmClub page.
Why: It will enable customers to solve some cases themselves, but also to present enough information that we can solve their problems "by return"
How: Click "Get Express Support" button from the clubhouse and at the bottom of every page.
Any good ideas? Email support@dmclub.net